From Nov. 1st 2022, China's National Standard, GB/T "Oriented Unplasticized Poly(Vinyl Chloride)(PVC-O) Pipes and Joints for the Conveyance of Water Under Pressure" was officially implemented. (Hereinafter referred to as PVC-O National Standard.)
This very Standard was jointly released by the State Administration of Market Supervision and Administration and the National Standardization Administration on April, 15th 2022.
And the National Standard referred to ISO 16422:2014, "Pipes and joints made of oriented unplasticized poly (vinyl chloride) (PVC-O) for the conveyance of water under pressure — Specifications" and EN17176, "Plastic piping systems for water supply and for buried and above ground drainage, sewerage and irrigation under pressure - Oriented unplasticized poly (vinyl chloride) (PVC-O)".
The PVC-O National Standard was drafted leadingly by Hebei Construction & Investment Baosu Pipe Industry Co., Ltd. And Mr. Gao Changquan and Mr. Wang Yingtao from Baosu played critical roles in the drafting process.
The Implementation of the PVC-O National Standard would benefit the standardization of the PVC-O pipe and joints manufacturing industry and promote the application and popularization of PVC-O water-supply pipe and joints.
A milestone of China's PVC-O industrialization development!
Description of PVC-O National Standard:
PVC-O pipe is a transformation and upgrading product developed from traditional PVC pipes which are PVC-U pipe, PVC-M pipe, etc.
According to the National Standard for PVC-O pipes, the molecular orientation of thermoplastics at a temperature slightly higher than that of glass transition can improve their physical and mechanical properties.
After orientation, PVC-O pipe material molecules formed a layered structure of the pipe wall, which can resist brittle damage caused by minor defects of the base material or scratches on the pipe wall surface, so PVC-O pipe has excellent resistance to notch damage.
Meanwhile, the improvement of circumferential strength after molecular orientation allows for the reduction of the wall thickness of PVC-O pipes, which can save materials and energy. The impact and fatigue resistance of PVC-O pipe is also improved.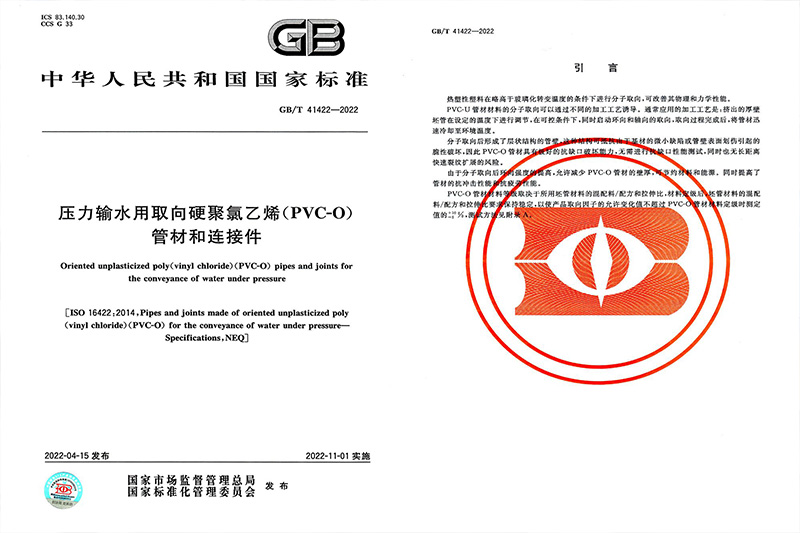 Information of PVC-O National Standard:
Standard No.: GB/T 41422-2022 (GB/T41422-2022)
Chinese Name: 压力输水用取向硬聚氯乙烯(PVC-O)管材和连接件
English Name: Oriented unplasticized poly(vinyl chloride)(PVC-O) pipes and joints for the conveyance of water under pressure
Industry: National Standard (Recommendation)
Bid Classification: G33
International Standard Classification: 83.140.30
Word Number: 33,330
Releasing Date: 2022-04-15
Implementation Date: 2022-11-01
Reference Standard : ISO 16422-2014, NEQ
Leading Drafting Unite :Hebei Construction & Investment Baosu Pipe Industry Co., Ltd.
Leading Drafter:Mr. Gao Changquan, Mr. Wang Yingtao from Baosu
Centralized unit: National Technical Committee for Standardization of Plastic Products (SAC/TC 48)
Proposed by: China Light Industry Federation
Issued by: State Administration of Market Supervision and Administration, National Standardization Administration